Fagan & Hannay are specialist sheet metal fabricators and work with stainless steel, copper, aluminium, mild steel and galvanised steel.
Our sheet metal manufacturing facilities include precision sheet metal profiling, metal folding, laser metal fabrication, metal punching, precision sheet metal fabrication, powder coating and assembly.
We have the cutting edge facilities to carry out a wide variety of  sheet metal work. Additionally, we provide a quick turnaround of metal proto types using our full range of expert sheet metal fabrication techniques and technologies.
Fagan & Hannay having in-house fabrication means we can design and manufacture other bespoke architectural metalwork, providing an economical one-stop solution to the overall project.
We produce products from all metals including stainless steel, aluminum, copper and mild steel. Times have changed and metal work has become an incredible order of modern architecture, unlike in the past where it stayed hidden behind the concrete facades of the building.
The new metal designs and production techniques allow us to be bold and innovative. Various applications use metalwork from sweeping grand stairways, modern stainless steel infrastructures and exterior walkways.
Our experience and expertise in sheet metal engineering as well as the building industry enables us to produce just about anything.
Talk to us about your ideas and designs.
Fagan & Hannay have vast experience in the world of dust and fume extraction and materials handling.
We are familiar with the more difficult products such as plastic and paper.
Over many years Fagan & Hannay  has built up a reputation for high quality workmanship in the manufacture of ductwork systems and associated equipment. We have the facilities to produce in mild steel, stainless steel and aluminum to the highest standards. Our skilled sheet metal workers are also experienced in all aspects of gas and electric welding.
We aim to provide a complete manufacturing service for dust and fume extraction systems, ensuring total control over the first class quality of our products.
Fagan & Hannay design and build pulse jet and static bag filter units, rotary valves, spray booths, fans and all ducting components.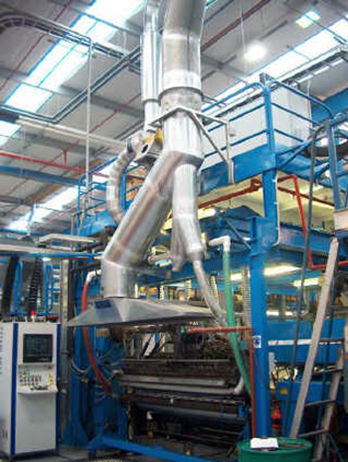 Fagan & Hannay have the experience, knowledge and skill to design and produce a range of machinery that require precision engineering and sheet metal work with a high standard of finish.
Some of our designs include a 3ph food processing grinder available in two different sizes, a centrifuge which is also a food processing machine and a residential two person lift. Homelift™
We deliver customized equipment solutions and design services for meeting unique and challenging projects every time. We listen to your needs and to collaborate with your team to fully understand, and conquer, the challenges you face.

We ask about specialty alloys, hardness, coatings and cladding that may be relevant for your application.
We make all of the following products:
Dust and Fume Extraction (Portable or Stationary Units)
Flashings
Industrial Silencers
Boat Tanks and Stainless Steel Fittings
Commercial Kitchens
Handrails
Commercial Range Hoods
Commercial and Residential Ventilation
Cabinets
Mig/Arc/Tig Welding
Tables and Trollies
And all work in Stainless/ Copper/ Brass/ Galv/ Zintec Metals
Factory Maintenance
If there is anything you need and can't buy it off the shelf call us.